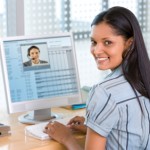 Our free OLI Demo
Starting in February 2019, we will resume our free, on-line, interactive (OLI ©) demonstrations that take place every two weeks, with an updated Preview of one of our existing workshops (see below).
There is no obligation for anything. You simply get to meet us, on-line.
As for benefits, you can learn about our process for OLI workshops. You can meet some of the experts in our virtual team, from across North America and possibly from Europe and Africa, depending on connections and other factors.
Please contact us if you wish to join us for an OLI Demo or meet us sooner for some other purpose.
Internationally relevant topics by experienced, on-the-ground professionals
We have two, "flagship" OLI workshop series in the theme of science, technology and innovation for climate change (STI4CC) ready for clients. These are suited for individual professionals, or corporate training for a group. Like a briefing, they help to get everyone up to speed quickly, and to engage in discussion.
One is provided by a telecommunications lawyer and former delegate to the global climate talks.  Mr. Arthur Levin delivers the inside story of these talks and the potential role of ICTs (information and communication technologies) to mitigate and adapt to climate change. It is a 3-part series of 45 minutes presentation, and up to 30 minutes live Q&A, in the OLI format.
Another focuses on the global market for cleantech, developed by Mr. Richard Labelle, of Ottawa-Gatineau. It is a 4-part series delivered in the same format as Mr. Levin's.
Each individual OLI workshop costs CAD $50.00 + tax per participant. (Payable by e-transfer or Paypal). You can take one or more, depending on your needs. You may meet your colleagues, peers or new contacts on-line, all at the same time. Unlike a large webinar, we allow time for discussion in a small-group format.
OLI workshops in English and French
We offer our STI4CC workshops in English and French, so, if you need to, you can refresh your language skills while also benefitting from the knowledge conveyed by our experts.
Make your own OLI workshop
If your goal is to produce your own OLI presentation or workshop, that you can deliver to audiences, clients, stakeholders or others across the city, region, country or world, we can help you with that. If you seek an on-line, expert focus group to provide your first line of critique before taking your idea, service or product to the next step, we can assist you with that process, too, in particular in areas related to science, engineering, health or innovation. Contact us for more information.