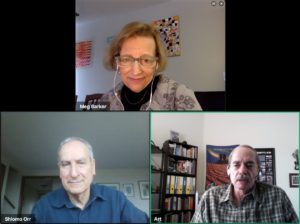 What happens at a live OLI Demo?
Attendees log into our meeting platform from their device (a computer, tablet or smart phone) using an access link we provide. Attendees might be at home, at a café with wireless access or at work (though not behind a firewall). Ideally, everyone wears a headset with a microphone, to reduce ambient noise.
We are happy to provide individual free training and orientation on request, up to 24 hours prior to the live OLI Demo. This is true whether or not you plan to attend an OLI Demo.
Pictured above at a usual OLI Demo are: Ms. Meg Barker of Kelowna, BC, Canada; Dr. Shlomo Orr of Kennewick, Washington State, USA; and Mr. Arthur Levin, of Miami area, Florida, USA.
You decide, for our next, free OLI Demo!
Our regular (bi-weekly) OLI Demos in the STI4CC theme (on science, technology and innovation to address climate change) are now parked for the spring and summer. However, if you would like us to provide a free OLI Demo in this theme, arrangements can be made. We cannot guarantee that members of the STI4CC team will be available, but if not, a Preview webinar can be viewed, and a discussion held.  Click here for more details, or contact us for more information.
By the way, there is no obligation for anything. You simply get to meet one or more of us on-line, and are provided an orientation to our process.  Hope to see you soon!