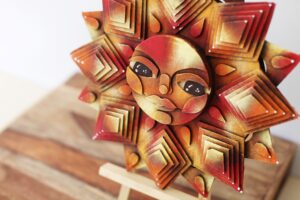 Programa de Cero Residuos
On Tuesday, August 17th, at 8:00pm EDT* at our OLI-works Spanish conversation workshop, we featured a Calgary-based entrepreneur and expert on community-level waste reduction and management. This is Ms. Liz Romo, a biologist and graduate of the Sustainable Energy Development Program of the University of Calgary. Ms. Romo has been operating her company called Ciclomanias for ten years in Canada, and in that time period the company has diverted from landfill 4.5 tonnes of recycled corrugated cardboard and 2 tonnes of recycled plastic bottles.
Ms. Romo has working experience in Canada, Mexico and China. She spoke in Spanish about the company's story and also a program called "Zero Waste Ambassador at Home Program." (YouTube in English here) In Spanish the title is: Programa de Cero Residuos.  She was joined by a collaborator in Calgary who helped to deliver this program, and of course workshop attendees from across Canada.
A recording of the presentation made at our OLI-works Spanish workshop is now available. Please contact us for the password.
OLI-works provides on-line, interactive (OLI) language workshops for learners who wish to improve conversational capabilities in a convenient and informal manner. They include a facilitator or more in one of the target languages of:
French

Spanish

Swedish

English
OLI-works language workshops feature networking across North America and Europe, with nodes under development in Africa and South America. We help participants develop confidence making on-line presentations in their target language(s), with just enough momentum to keep building skills, but without the burden of formal requirements or tests.  Click here and scroll down for details.