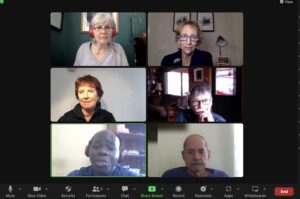 ONG Espoir de la famille
The non-governmental organization Espoir de la famille (EPFONG), based in Porto-Novo, Benin, was featured at our OLi workshop in conversational French, March 9th, 2023.   Louis Sovi is a program director for EPFONG, and he gave a presentation to our group. EPFONG was founded in 1998, with the objective to meet health and community development needs. A critical problem at the time of its launch, and which has not disappeared, was to address HIV/AIDs infections and to prevent their spread. Preventative reproductive health education has been the service, but EPFONG is now also able to guide afflicted people to health units where they can be treated. EPFONG also provides advice on how to avoid malaria and other tropical diseases.
Supporting the rights of women, and locating physical and psychological care for afflicted persons and orphaned children has been a central task for EPFONG.
If you wish to learn more about EPFONG consult their Facebook page here, or contact us and we can help you make the link. If, on the other hand, you wish to make a presentation in French about your own organization, business or initiative, let us know. We may be able to include you in our workshop series.
Finally, if you want to perfect your French, including your presentations in French, and meet other learners around the world, our workshops may be the right fit for you. They take place Thursdays at 11:00am ET, 5:00pm CET. Details are here. Contact us if you are keen!