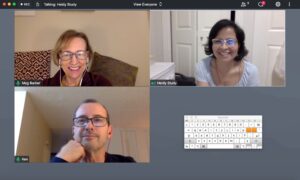 Converse at our OLI-workshop in Spanish
Our informal OLI-workshop in conversational Spanish has begun, on Tuesdays at 8:00pm and Thursdays at 7:00pm, EDT Canada. You can check the World Clock for the time in your location.
The purpose of our workshop is to encourage participants to speak, which is the usually the most difficult, last stage in language acquisition. Our facilitator is fluent in Latin American Spanish, but everyone else is learning.  Normally attendees will be at a level that they can listen and understand slow Spanish, but talking poses challenges for them. If you don't wish to speak right away, but rather, listen to others (struggle), that is perfectly fine.
A format easy to prepare for
As described here on our workshops page, the OLI-workshops in Spanish follow a standard format of roundtable introductions or presentations, which you adjust each week depending on what story you wish to tell, or what you want to highlight about yourself.
A drop-in with no commitment
You can attend one or many OLI workshops in Spanish, depending on your wish.  Our OLI-workshops in language are intended to be fun, informal and no commitment is required beyond paying in advance for each workshop the amount of CAD $15.00 by e-transfer or Paypal. Contact us and we will provide the payment addresses.
Who is coming?  The networking side
Participants in our language OLI-workshops and virtual teams tend to be independent professionals–engineers, lawyers, overseas development specialists, writers and various others who wish to keep themselves sharp, and who might be travelling again, once the pandemic is over.
To launch our OLI-workshop in Spanish, we have Heidy Rodriguez as our facilitator. Heidy is a petroleum engineer originally from Colombia, but now living in Calgary, Canada. In addition to her engineering qualifications, Heidy has provided English and Spanish language training to various groups over the years.
Ken Robertson is an overseas development professional with a career in finance, business, environmental studies who, for his Master's degree, launched a global not-for-profit dedicated to providing off-grid energy for lighting in remote areas of the planet, including countries in each of Asia, Africa and Latin America. He lives in Calgary, Canada.
Meg Barker, founder and operator of OLI-works, is hosting the language workshops. Her background is in building capacity in science, technology and innovation, public policy and international affairs. She has worked domestically with the federal government in Canada, and also on a range of projects in Asia, Africa and Latin America. She lives in Kelowna, Canada.