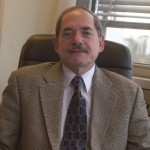 New OLI Workshop
We are pleased to announce a new collaboration in the theme of science, technology and innovation to address climate change (STI4CC).  We are offering a second, on-line and interactive (OLI) workshop series titled "ICTs and the Evolving Global Framework on Climate Change", featuring Mr. Arthur Levin, JD. This workshop will complement our existing and constantly updated "climate change and cleantech" series, offered by Mr. Richard Labelle.
Mr. Levin, trained in law with a specialization in trade and telecommunications law, is currently the President of Artech Global, based in Florida. He is an invited speaker and advisor to governments around the world.  Formerly, he was Chief of Staff and Director at the International Telecommunication Union (ITU), a specialized agency of the United Nations (UN). Mr. Levin was ITU's Lead Delegate at the UN global climate change negotiations for many years, and his work contributed to the Paris Agreement of December 2015. The ITU emphasizes the role of Information and Communication Technologies (ICTs) to assist with climate change mitigation and adaptation.  Mr. Levin also served as Deputy Executive Director of the United Nations World Summit on the Information Society.  We are grateful for his contributions to our path-breaking, on-line Review Panel for the 2012-13 term.
Mr. Levin's presentation provides a history of global climate change agreements and implementation efforts since the adoption of the UN 1992 Framework Convention on Climate Change (UNFCCC).  He also provides insider analysis on future regulatory challenges and opportunities in light of the implementation of the Paris Agreement and the 2020 Presidential election in the United States. A discussion of the latest climate science and the critical role of ICTs to address climate change rounds out his presentation. Mr. Levin's on-line, interactive (OLI) workshop is ready for delivery to clients on demand.