Platform for Policy and Development Professionals
Drawing from some of the experts providing our on-line, interactive (OLi) workshops, and adding new ones, we have launched a knowledge network and platform that is an amplification of our existing  "Science, Technology and Innovation for Climate Change (ST4CC)" virtual team. The pilot subscription plan of CAD$25 is currently running for a twelve-week period ending June 24th, 2021. It is operating behind the scenes for now, but if you wish an invitation as a free guest to see what it is about, contact us.
On May 6th we were given an update by Mr. Arthur Levin, J.D. on the current U.S. government position for climate change and the global negotiations that are taking place, leading up to COP 26.  In addition, Mr. Levin touched on the issue of bitcoin and its burden for CO2 emissions.  Mr. Levin lives near Miami, Florida, and has been a member of the OLi STI4CC network for a few years, occasionally providing updates on the American position regarding climate change. While employed at the UN International Telecommunication Union (ITU), he served as their Delegate to the UN global climate change negotiations.  Click here for more details about Mr. Levin.
On May 13th we were provided a presentation on Cuba's economic journey, from the 1960's to the present, with a specific focus on small scale enterprise. The expert was Distinguished Research Professor Emeritus Archibald Ritter, of the Departments of Economics and the Norman Paterson School of International Affairs at Carleton University. Professor Ritter, who lives in Ottawa, ON, is also an overseas development professional with field experience consulting, teaching and conducting research in low income countries.
On May 20th we were joined by Dr. Charles Cuell, of Terrace, BC. Dr. Cuell is a data scientist with Farmers Edge, working on yield prediction and crop classification from satellite imagery. He is also a partner with Climatic Resources Consulting where he is responsible for maintaining the data and computational pipelines that contribute to the company's localized climate projection and analysis services. He holds a Ph.D. in applied mathematics from the University of Saskatchewan.
Likewise on May 20th, from his Alymer, QC home office, we were briefed by Mr. Richard Labelle on the ongoing Financial Inclusion Global Initiative (FIGI) webinar.  About 51% of the world's population, or 4 billion people use the Internet today. Although the digital divide is shrinking bit by bit, many people are being left behind in terms of the critical services it can offer.  It is estimated that 1.7 billion people worldwide have never had a bank account. Of these, 1.1 billion have a mobile phone. The challenge of FIGI and of Fintech is to assist those without access to banking services to acquire them, using apps on their phones.  There is an important gender dimension to this work that was featured at the webinar. Here is an example of inclusive Fintech described by the CEO of hiveonline, Ms. Sofie Blakstad.
On May 27th we featured Ms. Katja Hansen, P.Eng. now living in Halifax, NS.  Ms. Hansen is a leading practitioner, executive trainer, consultant, mentor and author in product & process innovation and infrastructure development using the Cradle to Cradle (C2C) Design framework. This framework forms the basis for the Circular Economy. Ms. Hansen has specialized expertise in the built environment and biological systems, for example with bio-based materials, wastewater re-use and improving soil quality in urban environments. She is also one of the few European experts on adapting Life Cycle Assessment to the Circular Economy. The title of her presentation is: Creating positive impacts using regenerative design. See more about Ms. Hansen here.  Ms. Hansen can be contacted via her LinkedIn profile. 
As for June 3rd, we had an informal, roundtable discussion about a bid that a subgroup of the OLi STI4CC network are considering that would, among other objectives, address climate change and youth  unemployment in the Middle East and East Europe. A few development professionals in the network have quite a bit of experience working in these regions.
On June 10th we learned about the NGO Niteo Africa, oriented to literacy programs in Uganda. It's Canadian partner is based in Kelowna, BC, but there is also an office in Edmonton, AB, Canada. The Executive Director is Ms. Jamie Henderson.  She provided insights on how the education of girls and reproductive health programs are critical for reducing the risks of climate change, but acknowledged that these interlinking issues are not broadly understood within certain dialogues about climate change.  Mr. Duncan Ahigika, Founder and CEO of the Elohim Development Association (EDA) gave a talk on the local circumstances for vulnerable youth in Bombo, Uganda.  EDA serves this population. He also described the types of programming the association provides, including dance and theatrical productions in the creative economy realm, and vocational training in tailoring and automotive mechanics.  Niteo and EDA are collaborating on literacy programs, but each is involved in activities that go beyond this partnership and scope. The title of their presentation was: Essential Climate Work: Life-Wide Literacy Communities 
The pandemic has had an impact on both organizations, for example some training programs at the EDA had to be dropped, hopefully temporarily.  Each one is working at finding new ground and solutions.  In the Q&A component of the workshop, we had a preliminary discussion about infrastructure services for the EDA, and the literacy centres that Niteo serves. On the topic of water and sanitation, Ms. Katja Hansen (also on LinkedIn) described a Cradle to Cradle approach for wastewater treatment that has already been proven for small or rural communities. A free guide for interested communities exists here, and a 1997 published report on Biomass Nutrient Recycling provides further background. 
On June 17th while trying to address a technical glitch* we heard the many dimensions involved for a last-minute, national survey in Zimbabwe that Mr. Ken Joseph of Icegate Solutions was involved with. Eventually the glitch was resolved and we began to view a presentation by Mr. Joël Baumier about how USAID and EU aid are integrating SDG5 as the top level criterion for their support.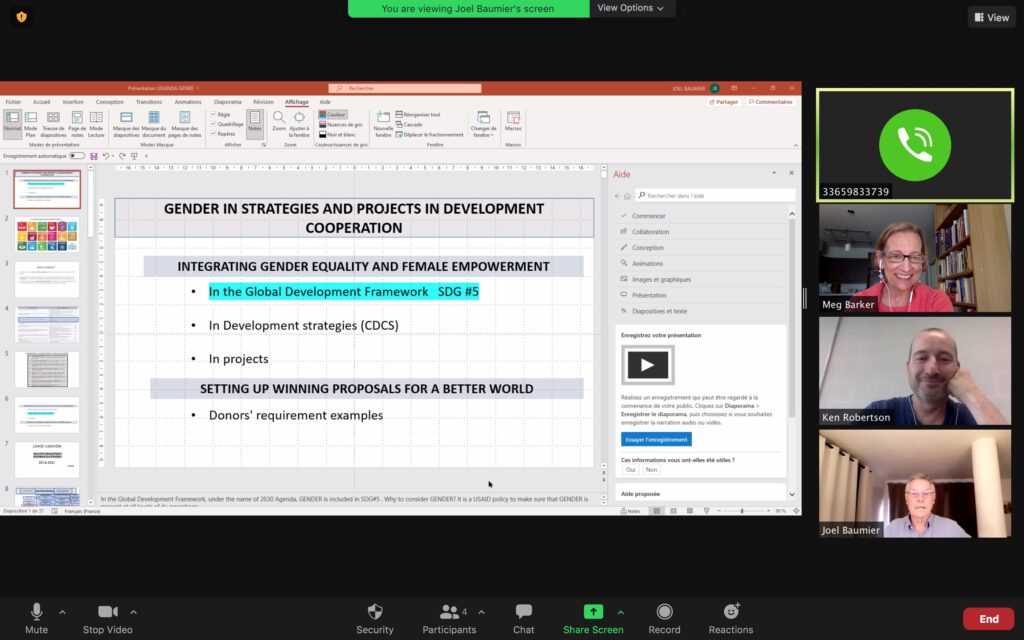 On June 24th we continued with the above presentation by Mr. Joël Baumier, which maps out some of the processes involved to incorporate SDG5 and other SDGs in large, ambitious programs of development aid, how this has evolved, and what it might mean for organizations applying to the relevant agencies.
The first phase of our pilot STI4CC knowledge network is now complete, and we are considering next steps. Indications are strong that we will continue.
For subsequent weeks we are tentatively identifying presenters. Could this be you? The key benefits of presentation include marketing yourself and your expertise on-line to a professional audience normally possessing significant field experience in overseas development or international affairs. This "focus group" can provide critical feedback and may suggest leads or avenues.
*Ours is a rehearsal platform, so part of the mission of OLi-works is to help presenters become knowledgeable about the videoconference software that we use. It is always mainstream, and we switch if there has been technical leap forward for one or the other.
Learn more
Those who are part of the OLi STI4CC knowledge network but cannot attend all the live sessions can access some of our video recordings here.  Contact us if you are not currently part of this knowledge network, but wish to learn more about it and perhaps view recordings. Everyone is free to follow up with any member or guest they wish.  If you would like to drop in as a guest, become a subscriber or be included in the list of presenters, please contact us.